Perfect Social Posting Times for Chiropractors
In today's fast-paced digital environment, capturing your audience's attention is the first step toward success. Crafting compelling and engaging chiropractic social media posts is both an art and a science. Mastering both makes all the difference. Each post should blend creativity and authenticity to resonate with your target audience. From sharing success stories and patient experiences to offering quick tips for maintaining spine-related health, your posts should provide value and create a sense of connection. Well-crafted posts lead to higher engagement, more shares, and more new patients.
Alright, let's fine-tune your content strategy, starting with the best posting times for each platform.
1. Facebook: The Wellness Hub
Facebook is where your patients connect with friends, family, and their favourite pages. For chiropractors, the best times to post are generally:

Example: Share a post on Thursday about the benefits of regular spinal check-ups to kickstart the week.
2. Instagram: Visual Inspiration
Instagram is all about visuals. Showcase your practice, share patient success stories, and provide health tips. The prime posting times are:


Example: Share a before-and-after image of a successful patient recovery on Wednesday during lunchtime.
3. LinkedIn: Professional Wellness Network
For LinkedIn, you're reaching a more professional audience. Post during:

Example: Share an article on Thursday morning about the benefits of chiropractic care for desk-bound professionals.
4. Pinterest: Wellness Visuals Galore
Pinterest is a treasure trove of health tips and visuals. Pin away during:

Example: Create a series of infographics about posture improvement exercises and pin them on Saturday morning.
5. YouTube: Educational Sessions
Video content is powerful for chiropractors.
Post videos on:

Example:Upload a video on Tuesday afternoon demonstrating simple stretches for back pain relief.
6. X (Custom Platform): Wellness Niche
This could be a specialized platform that resonates with your specific audience. Tailor your posting times based on the platform's analytics and your audience's behavior.

Example: If you've developed a wellness app with a dedicated user base, analyze the app's usage patterns to find optimal posting times.
Remember, these are general guidelines and it's essential to monitor your own analytics. Experiment with posting times and track engagement levels. What works best for your practice might have its unique rhythm!
With this refined content strategy and ideal posting times, you're poised to be the ChiroStar that everyone turns to for wellness advice! 🌟
Does thinking about social posting fill you with anxiety?
We can help you get social without the stress: click here.
Many chiropractors simply don't have the time to set up and manage their presence across multiple social media platforms. Sound familiar? Social media management is just the thing for you! At PowerSurge, our one-stop-shop marketing team can work with you to create content for all your social media profiles. We can design, develop, schedule, and post to all of your social accounts, including Facebook, Instagram, Twitter, Linkedin, and Google.
Want the ease of posting and scheduling, and not pay a marketing company to do it?
We can help you with that too!
For a limited time, we are offering our Turbo-Charged Toolkit for free, forever!
One of the 7 tools you have access to is our all-in-one social media composer that's integrated with Chat-GPT4 – AI, making posts for you. Just give a prompt, and our software does the rest. Schedule posts up to 6 months' worth of posts at a time.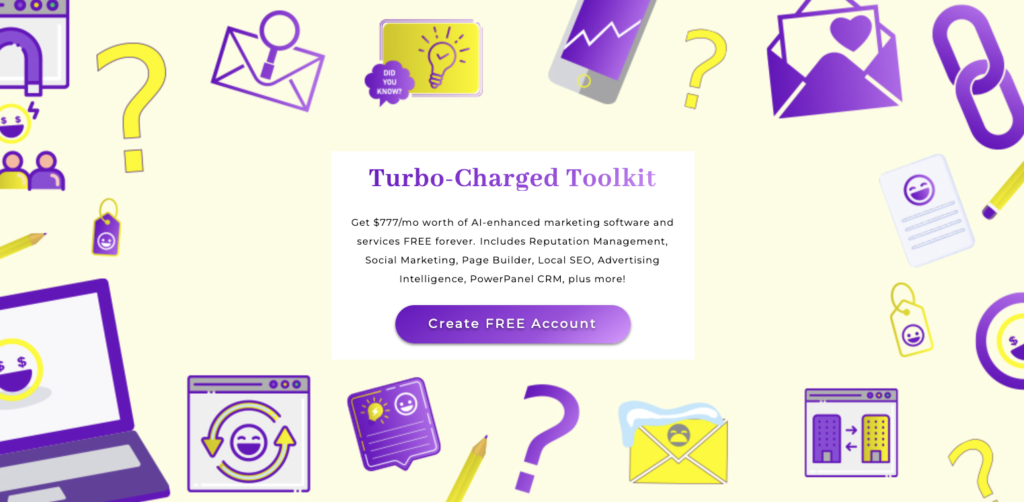 Happy Posting – Stay Powerful ⚡